Drawing insights from Big Data and customer experience are the top two goals for successful digital transformation for brand and agency marketers.
Here's my selection of key insights from the WARC survey on the biggest challenges faced by marketers and agencies in 2018.
For consumer brands, the role of voice-enabled technologies (Amazon, Google, Siri etc.) will become increasingly important. And with it comes the challenge of 'brand-bypass'.
Companies have to take a closer look at the complex relationships between their digital and real-world touch-points as managing customer experience becomes increasingly important for managing digital transformation.
Brands are adopting more purposeful marketing strategies to win over their critics. The challenge will be recognising when and how to drive sales while doing social good.
It's time for marketers to get involved in helping their companies develop data strategies. With GDPR only a few months away, brands are exploring new ways to introduce rewards in exchange for user consent.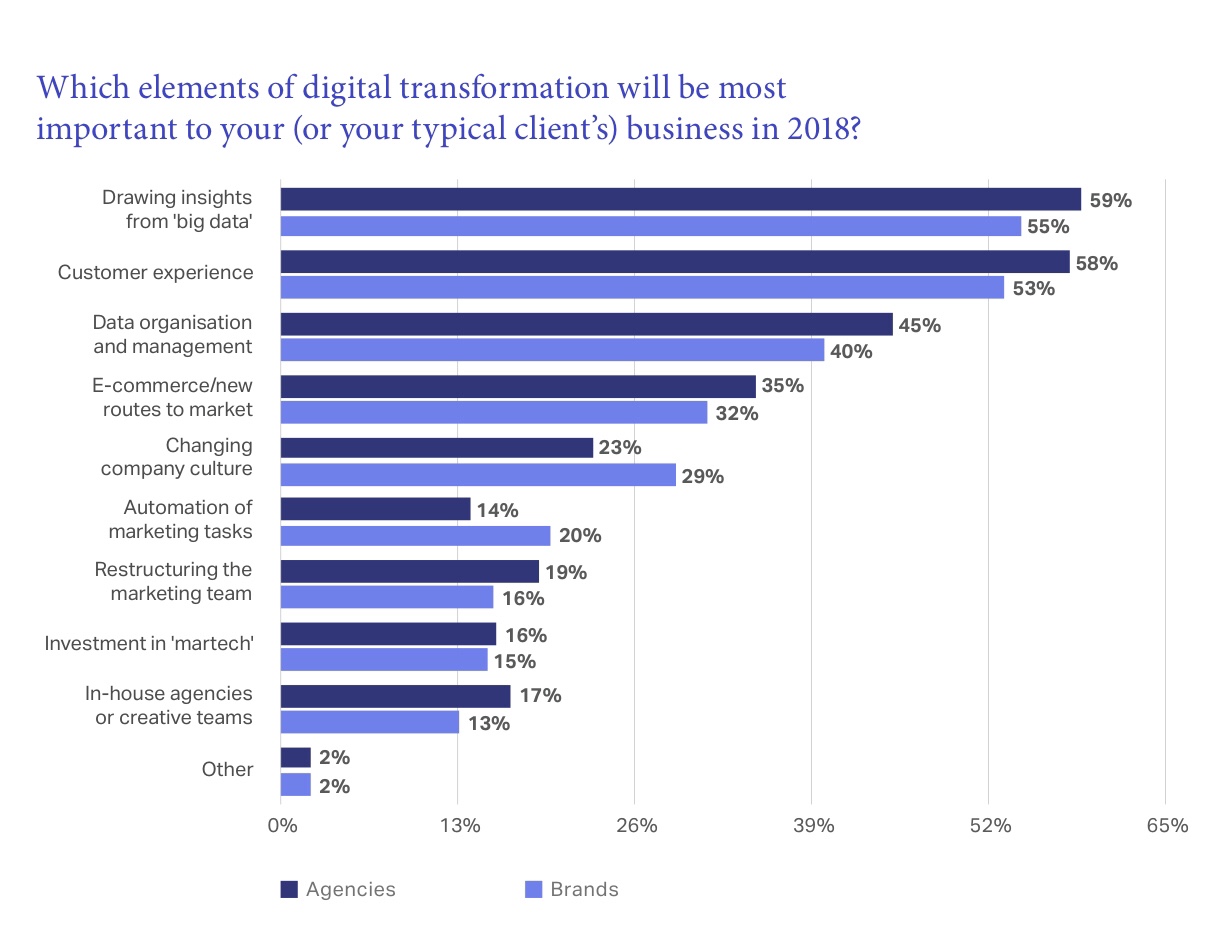 Image source: WARC Survey
Digital transformation has been a major theme in 2017.
In 2018 the focus is shifting towards driving these initiatives forward.
Looking beyond growth
Beyond the growth drivers highlighted in the report, marketers are also concerned that inaccuracy of their analytics and difficulty in finding the right talent and skills can also hinder their digital development goals for 2018.
With all the concerns surrounding fake news, surprisingly, brand safety isn't as big a concern for agencies (16%) as it is for brands (21%).
Another reason why I found that intriguing is because during 2017 many brands opted out of programmatic buying and switched to direct buying amidst brand safety concerns.
As an agency marketer I know how much attention is placed on ensuring that advertisers ads are placed on only the most reliable and quality publishing and media channels. However, this is a valid concern for brand marketers and as such it should be appropriately addressed.
Managing Consultancies & Cultural Change
Management consultancies continue to threaten media and creative agencies by offering end-to-end digital transformation solutions including research, strategy, planning and content to brand marketers. At the same time the crisis of trust between brands and their creative and media partners continues to be a major issue.
The biggest driver of any transformation stems from a change in culture. Brand marketers regard cultural change as an important element (29%) in digital transformation while that sentiment is somewhat shared by agencies (23%).
To me this sounds alarming since the need for a cultural change within the traditional agency model is overdue. Cultural transformation is a common factor between brand and agency marketers. By recognising the need for it and undergoing this transformation, agencies can assist brands navigate this transformation successfully.