A few weekends ago I was tending to my hotels, you know on my mobile phone, when I noticed how the in-game ads changed from prompting me to download a fast-paced FPS in the morning to fitness apps in the afternoon and finally to meditation apps late at night.
Considering that I was intentionally watching those ads to gain some much-needed cashflow made me wonder how well marketers are using in-game ads.
There's an app for that. Did you know that your phone carries your personal microbiome? No surprises there, right?
We spend around 3 hours and 15 minutes per day staring at our phones and 80% of that time is spent in apps.
The global app market is already worth an estimated $461 billion and expected to double in 3 years. That's a great news if you're an app developer and even better if you're a game developer.
The current state of mobile gaming
Since 2016 time spent playing mobile games has increased by10% every year.
While the COVID lockdown has been a disaster for some industries, mobile gaming wasn't one of them. The first 3 months of social distancing recorded 90 million hours of gameplay and a 30% increase in in-app purchases.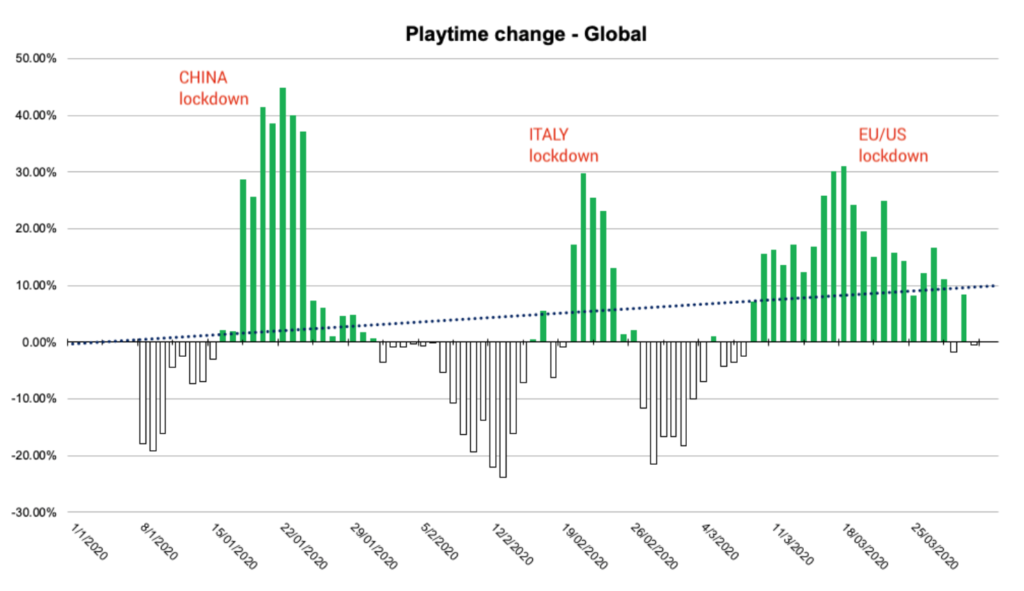 Playable ads and other cool stuff
The one thing both advertisers and game developers can agree is that engagement matters.
Thanks to Mobile Rich Media Ad Interface Definition (MRAID) a lot of previous challenges with delivering rich media ads caused by the differences in iOS and Android have been sorted out. Today one the most sought after types of in-game advertising is Playable Ads.
A Playable ad is in fact a game delivered as an ad within a game. A Gameception if you will. You can try these examples from Moët and Chandon and New Balance.
Aren't they just skipping the ads?
In fact the opposite. Tapjoy found that more people are willing to give up Social Media apps and TV than their favourite mobile games.
The same survey also discovered that mobile gamers are 2x more likely to pay attention to an in-game ad compared to browsing the web.
Another study found that 86% of gamers play mobile games during their downtime. when they're not distracted by anything else. Perhaps that's why people are more likely to remember the finer details of an ad viewed in an app.
As far as purchase behaviour goes, more people are likely to buy the product seen in the in-game ad than on Instagram.
Show us the ads, please. Most gaming apps are Freemium or ad-supported. Last year mobile games accounted for 74% of consumer spending on mobile, racking in more than $86 billion in revenue.
When it comes to advertising nothing beats reaching a captivated audience.
As far as ads go, mobile gamers are much more willing to play a free game that includes ads and would gladly watch them if they got a reward in return. Currently, mobile games account for 10% of time spent on mobile and 74% of consumer spending.
However, what type of ads mobile gamers prefer depends on who you ask. While Millennials like to get rewarded for watching ads their parents prefer to view ads as a part of the gameplay.
The bottom line
People love playing their favourite games several times a day. Plus games also provide better brand safety than Facebook or YouTube.
With AR/VR technologies coming of age and 5G networks around the corner, in-game advertising provides a brilliant opportunity for reaching highly engaged people through immersive and engaging ads.
It's totally worth a shot.
[st-tag-cloud]