Account-based marketing (ABM) is the most in vogue B2B marketing tactic for the near future.
Earlier this year an industry survey found that:
60% of B2B marketers use ABM in lead generation,
52% use it to manage target accounts and
44% use it in programmatic and display advertising.
And marketers shared the benefits they're seeing with ABM initiatives:
More efficient use of marketing resources.
Better alignment between sales and marketing.
A clearer path to ROI.
Faster sales cycles.
Marketers are definitely feeling confident that ABM is the right strategy for their business.
But, at the same time, they're struggling to execute ABM at scale.
Forget building the perfect program.
You're better off creating an ABM strategy that makes the most of your existing tools and capabilities.
You need three basic ingredients to get your ABM strategy right:
A list of named contacts, prospects or accounts.
The ability to assign a monetary value that you could gain by pursuing these prospects.
The ability to develop tailored marketing and sales support for each prospect.
Got that? Good.
Now let's agree on how we're going to put it all together.
I got my recipe from here:
Client centricity and insight
A partnership between sales and marketing
Focus on reputation, relationships and, ultimately, revenue
Tailored programs and campaigns
Getting ABM right requires a commitment of time and capital from both marketing and sales.
That means making tradeoffs.
And that means the effort must be worth the reward.
There are no 'one-size-fits-all' ABM strategies.
Undoubtedly ABM is a powerful marketing tactic.
But it's not strategic unless you leverage your resources.
And tweak your approach to reach your unique customers.
There are several ways you can go about it.

Choose yours based on your needs.

This ITSMA Marketing tool will help you.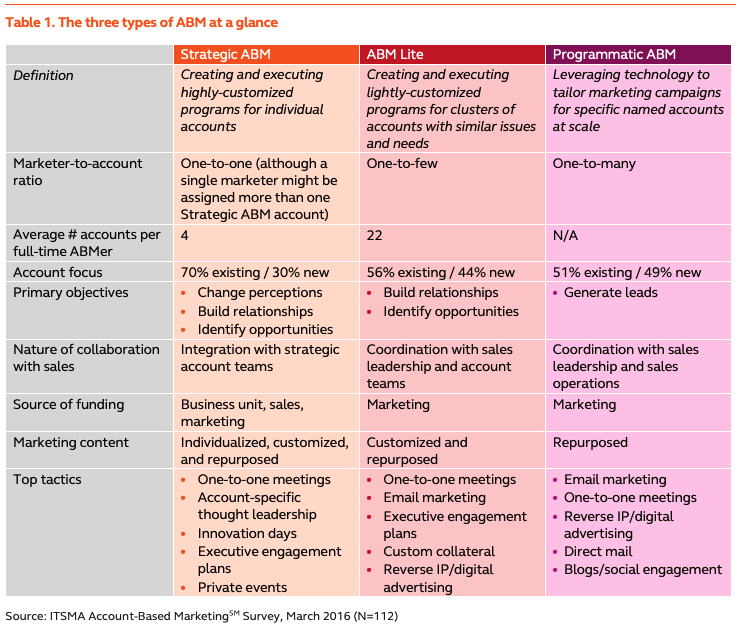 The level of personalisation you're able to deliver will make or break your ABM campaign.
An ABM campaign from GumGum is a Hall of Famer, for sure.
GumGum, a computer vision company based in Los Angeles, wanted to get John Legere's attention.
The GumGum team knew that if they could capture attention at the top of the organization, everyone else below would naturally follow.
As the tale goes, GumGum followed John Legere on social media to learn more about his likes and dislikes.
They discovered that he's a huge Batman fan.
So they created a comic book that would engage T-Mobile's leadership, explain computer vision capabilities, and express GumGum's industry points of view.
They came up with T-Man, a Batman-inspired superhero.
And his trusty sidekick Gums, who uses image-recognising technology to help T-Man save the city from bad cell-phone service: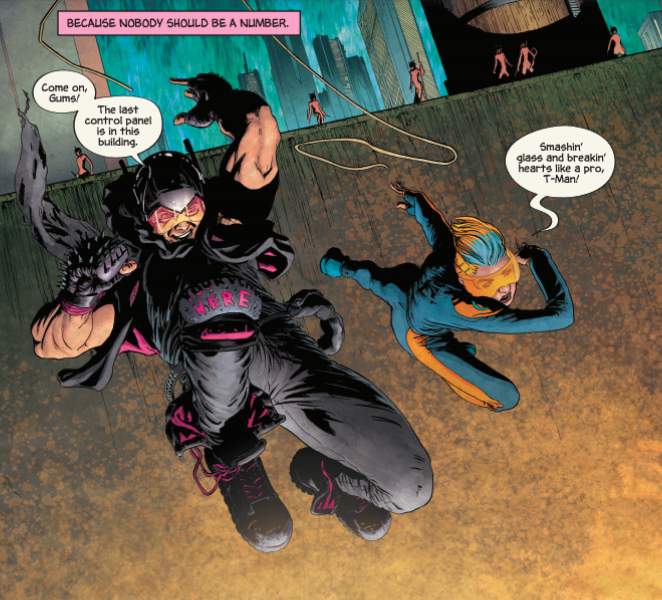 I know this one's a bit out there.
But it's the level of personalisation that really makes this campaign so cool.
GumGum made the effort to learn about their prospect and came up with a uniquely personalised way to approach him.
The lesson here is that you have to make the effort equal to the reward you're after.
And you may just win a big client like T-Mobile.
As well as become a legend in ABM. Not too bad for a comic book.
Check out more examples of kick-ass ABM here and here.
Here's another impressive example of ABM from RollWorks.

They designed a campaign based on pain points they had identified through customer feedback.
Step 1: The campaign started with personalised display ads that went live as soon as an SDR approached the prospect.
 
Step 2: The ads were accompanied by personalised emails by the SDR.
 
Step 3: The email drove the prospect to a personalised landing page to introduce them to the SDR.
 
Step 4: After the prospect visited the landing page, they would start getting targeted with personalised ads once again.
 
Step 5: Clicking on an ad would take them to another personalised landing page where they could schedule a meeting with the SDR.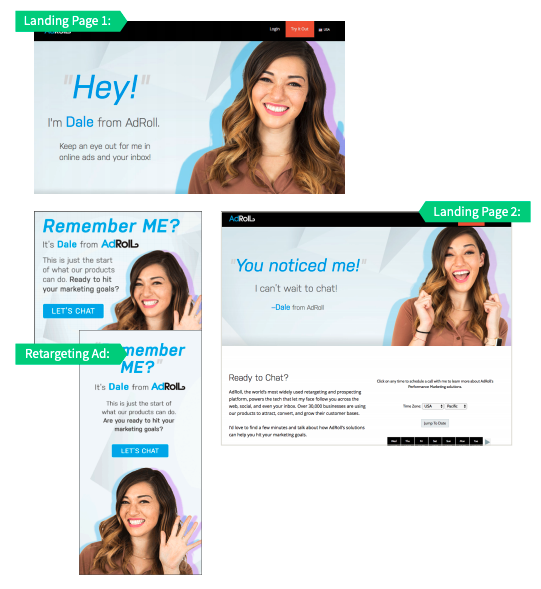 You'd think they'd stop there, right?

Instead, they followed up with the prospect with a post-meeting direct mail.

The mail included a note from RollWorks and a poster explaining how their services can benefit the prospect's business.

For prospects that went cold, they sent a custom Over-the-Line Kit.

The kit included a notebook that outlined a checklist for getting their first campaign up and running.

And it had quotes from happy customers every few pages.

That was for the prospects who didn't convert.

For those that did, RollWorks went one step further.

Leveraging the insight that new customers only used limited features of their product, they took out personalised display ads to educate the new customer of all the other features of the product.

The fact that the whole campaign is built around a unique customer insight makes it impressive.

And each step is designed to add value to the prospect, make them feel special and uses marketing channels that are available to everyone.

There is no single way to do ABM right.
But there is a way to get it wrong.
7/10 marketers define their ideal prospects to be C-Level executives or decision-makers.
Then they go about building a campaign to target these titles.
That's a mistake.
A good marketing prospect is anyone who is looking for information.
In fact, that's the first stage of any B2B path to purchase.
Often the best prospects are the influencers.
These are the employees who are constantly looking for information that:
benefits them personally,
helps them solve a specific problem,
gets them a promotion or
elevates their company as a whole.
If you're getting started with ABM, define your prospect as someone who is going to:
introduce your solution to their organisation,
initiate the buying process and
be a brand advocate for your solution.
No matter where you are in your journey with ABM.
This is the ONE thing you need to get right.