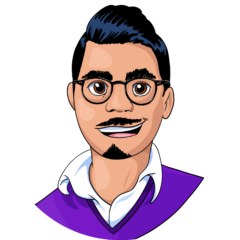 Hi! I'm Aliyar.
I build systems, tools, processes, and skills for driving marketing effectiveness.
What is Marketing Effectiveness?
It's mastering the science behind why we buy things and then using statistics to plan the best way to use your marketing investments to get people to buy your brand.
I've been doing this for 16 years and I've enjoyed every bit of it.
From being on the frontlines as a Planner, delivering on client briefs, to being a Strategy Director supporting my clients in delivering on their financial targets.
I've had countless opportunities to practice what marketing really is about: making a customer.
Along the way, I've also discovered my own values and shortcomings.
I value working towards financial goals that marketing can deliver on, and I work best in 12-month sprints. (In another life, I would have been a statistician and a behavioural economist.)
That's why I help brands create a clear 1-to-3-year path to improving marketing performance and ROI.
My specialty is focusing on the fundamentals.
I'm no good at coming up with campaign ideas, despite my hubris. But I can help you make evidence-based decisions, using statistics and empirical market research, to make marketing investments that bring measurable brand growth (not just clicks).
When your marketing investments aren't driving growth, ping me.
I've worked in Planning and Leadership roles at Omnicom Media Group (OMD & Resolution) and WPP (Wunderman Thompson). During this time I've worked with many exciting brands such as Vaasan (FMCG), OP Bank, Nordea Bank, Taaleri Tehdas (Wealth Management), KONE (B2B), Kone Cranes (B2B), Nokia, HMD Mobiles, Polar Electro (Consumer Electronics), Fortum (Energy), Mercedes-Benz Vans, Aston Martin, Metso-Outotec (B2B), Pihlajalinna (Healthcare), Bayer, Telia (Telecom)
Right now I'm Head of Media & Effectiveness at Paulig Group.
At Paulig Group I'm responsible for global media strategy, planning, and effectiveness for Paulig's retail brands that include Santa Maria, Paulig Coffee, and Risenta.
You can find us in multiple aisles across Scandinavia, Central Europe, and the Baltics.
As Head of Media and Effectiveness, I'm responsible for building tools, processes, and capabilities for data modeling, media planning, and driving brand growth through advertising.
What they say about me.
"I think it's fair to say that Aliyar is one of the top 10 people in his expertise globally. Aliyar has a unique skill to be able to explain even the most complicated performance marketing details or digital strategy to anyone in a way that the listener feels comfortable & understands."

Laura Hartikainen, Digital Journey Lead at Nordea. (LinkedIn)
---
"Aliyar is one of the superstars of the marketing industry. He understands business and understands people. Aliyar is one of those people you bring with you when you want to win."

Daniel Ovitz, Co-Founder & Senior Consultant at Intentio Agency. (LinkedIn)
---
"Aliyar is probably the best expert in the world regarding marketing performance and own channel development. He's an inspiring speaker and has brilliant ideas on how to transform marketing to the next level."

Michael Ovitz, Head of Marketing at Foodora. (LinkedIn)
---
"When everyone else feels disordered, Aliyar has an ability to combine things, collect them together and make it clear."

Jussi Saarinen, COO at Forenom Group (LinkedIn)